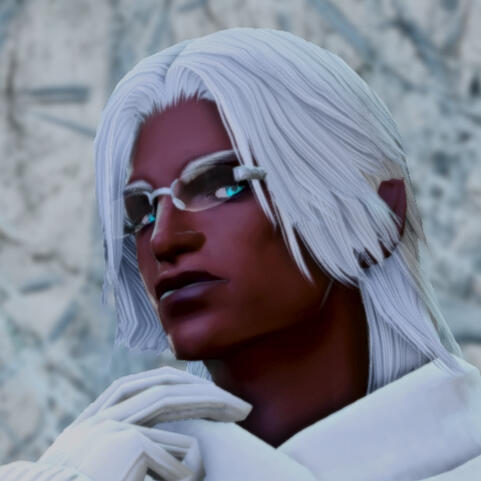 Bolt from the Blue
---
Nimbus is not one to tolerate nonsense. He's cool, calculating, and his dedication to skywatching precedes all else.

He wears his fascination with the atmosphere on his sleeve; no matter how on-the-nose, he's steadfast in embracing his first love.

Basics

Names & Aliases
Nimbus, Cloudy
---
Age
29
---
Nameday
32nd Sun of the 3rd Astral Moon
---
Race
Half-elezen
---
Gender
Male
---
Sexuality
Bisexual
---

Relationship
Dating
---
Profession
Skywatcher
---
Residence
The Mist
---
Birthplace
Gridania
---
In-game Name
Skywatcher Nimbus
---
Server
Mateus
---

Appearance

Hair
Stark white, box braided
---
Eyes
Striking teal
---
Skin
Black
*He is a few shades darker than he appears ingame.
---
Height
7 fulms
---
Build
Lean, toned
---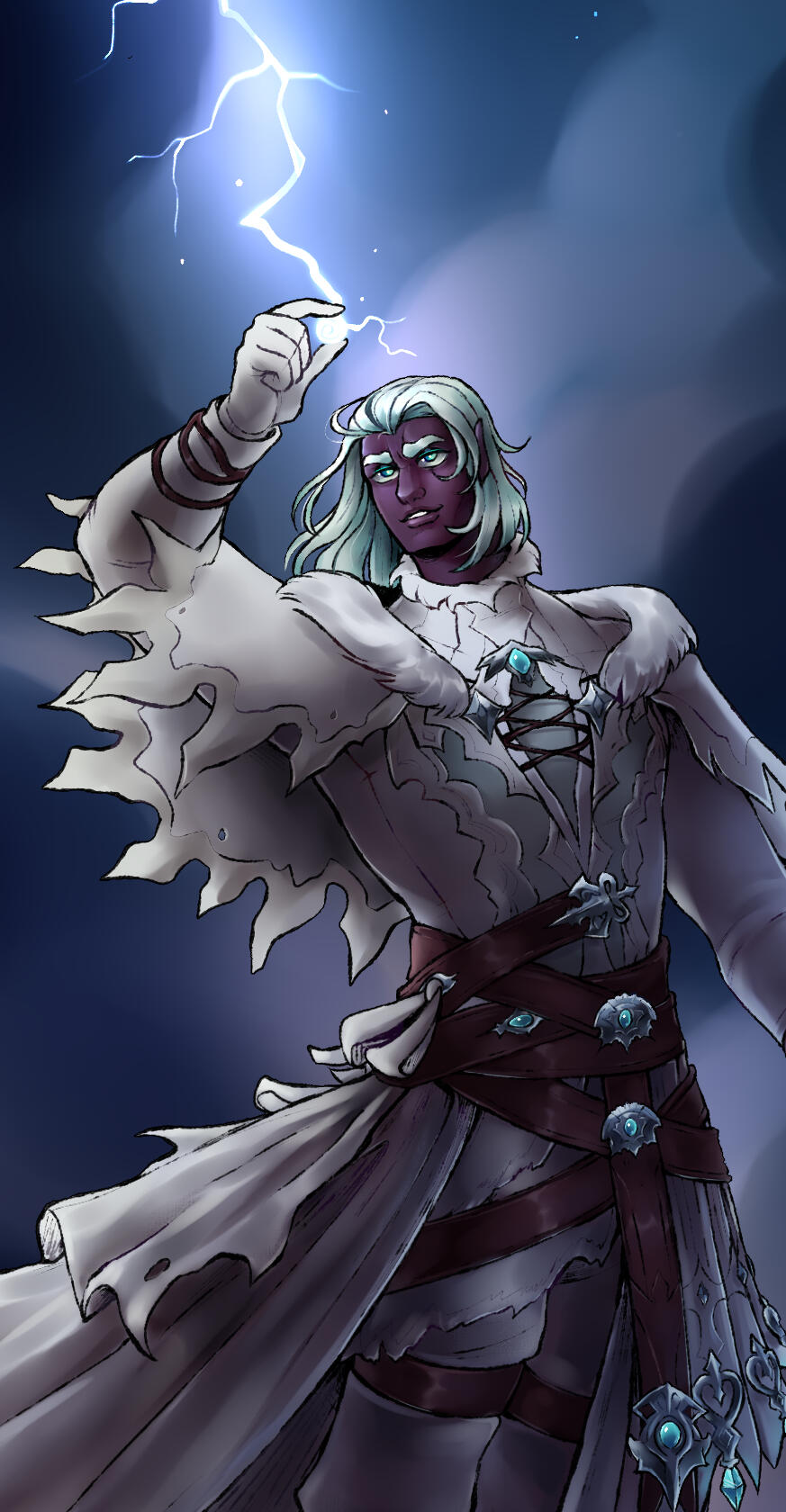 Distinguishing Features
Nimbus appears more hyuran in the face than elezen; he has rounded, filled out cheeks and full lips, but the greatest indicators of his mixed heritage lie with his slightly pointed ears and height

He wears dark eye makeup on his upper eyelids.
---
Clothing
Nimbus's fashion sense is very proper and put together. Suits and decorated robes are preferred.

No matter what he dresses in, it's always all white.
---
Common Accessories
Rimless glasses, linkpearl, aetherometer, research materials, stationery, earpiece
---

Personal
Positive Traits
Polite
Pragmatic
Focused
Neutral Traits
Aloof
Succinct
Negative Traits
Volatile
Intimidating
Mundane
---
Interests
Most obvious of all is Nimbus' passion for skywatching. It seems to consume most of his attention and time.

He also enjoys reading and journaling in his small amounts of downtime.
---
Dislikes & Fears
Nimbus dislikes filth, disruptions, persistent annoyances, and freezing weather.

His fears are well-guarded.
---
Past
Nimbus will speak openly of his past... so long as one doesn't mind him cherrypicking the parts that are easiest to talk about.
Trivia
Nimbus is very cool and collected for the most part, but when it rains, it pours. His temper strikes like a bolt from the blue.

He tends to be statically charged and will shock people and objects on contact frequently.

Nimbus is nearly deaf, but has recently acquired a technology that allows him to hear what's going on around him a bit more clearly. The device does not see round-the-clock use; instead, it's typically reserved for when the safety of others is a concern out in the field.

Nimbus' favorite beverage is black coffee, and he's capable of becoming quite grouchy without a regular caffeine fix.

Rarely found without a pair of gloves on.
---

Hooks

Cloud-to-Ground Lightning
The aetheric signature surrounding Nimbus is more potent than one may expect, and it's very distinctly aspected towards lightning. It roils constantly, like an arc of lightning is ready to claw its way out of him at any moment.

The odd aether would be noticeable by most magically attuned individuals from a fair distance, but aetheric sensitivity isn't required to physically experience the charged aura surrounding him. Anyone in his immediate vicinity may be subject to static electricity, the hairs on their body standing on end, the air tasting metallic, etc.
---
Half-n'-Half
He has the height and pointed ears of an elezen, but the facial structure and build of a hyur.
---
Struck Deaf
He's not ignoring you, he's hard of hearing!
---
Out of Character

About
I'm Joel- 25 years old, freelance artist, and professional himbo appreciator.

Despite my character's tendency to be a little chilly towards strangers, I am friendly and talkative OOCly!

To my knowledge all my characters are lore adherent, but I am not lore strict! So long as a story has a reasonable explanation, then I am open to it.

LGBTQ+ friendly, and most if not all my characters fall under the umbrella.

I do my absolute best to match posts, but my post length naturally errs on the shorter side since I tend to become shy and lock up in group RP settings. My post length gets longer the more time I have to relax and think.

I struggle with my memory, so I am prone to making honest mistakes, lore or otherwise. If you catch one feel free to bump me and let me know!

My schedule ranges between restrictive and open at any given day, so arranging a time for RP works best for me!

I prefer to be acquainted and communicative with my long term RP partners.

If you want to set something up or discuss story hooks, feel free to ask for my Discord or message me ingame!
---
Rules of Engagement
IC =/= OOC! Any of my characters' potentially harmful opinions, beliefs, and actions do not reflect my own.

In spite of the above rule, I do acknowledge that sometimes certain subject matters do affect people outside of the game, so please do not hesitate to communicate your comforts!

Most RP themes accepted! I excel most in lighthearted, humorous settings, but also appreciate plot and dark themes as well.

Will not RP: Random ERP solicitations, excessively dark, taboo, or inappropriate themes, and my own character's death.
---